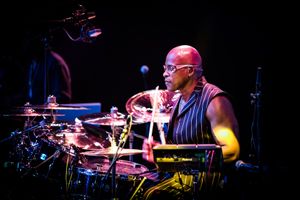 Kirk Johnson (Drums)
Tours with Prince:   Jam of the Year Tour 1997/98 (Drums), Love 4 One Another Charities Tour (1997), Act I (1993), Diamonds & Pearls (1992), Nude Tour (1990) 
Albums with Prince: Diamonds and Pearls (percussion), The Gold Experience 
(programming), Symbol (percussion), Chaos & Disorder (percussion), Gold Nigga
Emancipation (drums/production), Rave Un2 the Joy Fantastic and The Vault: Old Friends 4 Sale. 
Although he was in Purple Rain, Kirk did not begin working with Prince until he became a member of the NPG in 1990 – first as a dancer and percussionist.  He took over the drum chair in 1996, a role he filled periodically over the next two decades while also serving as Paisley Park's estate manager.  He worked with Prince up until the day that the artist passed away and, to this day, Kirk also works with the Prince Museum. 
He has also co-written/produced and played for multiple artists' projects including Candy Dulfer, Chaka Khan, Judith Hill, Larry Graham, Boyz II Men, Jevetta Steel, El DeBarge, Monie Love, Tevin Campbell, Rosie Gaines, Mavis Staples, Nona Gaye, and Najee.