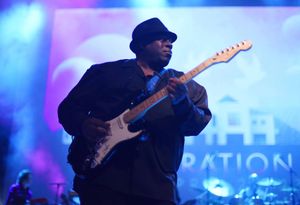 Levi Seacer Jr (Guitar & Vocals)
Tours with Prince: Act II (1993), Act I (1993), Diamonds & Pearls (1992), Nude Tour (1990), Lovesexy (1988), Sign O the Times (1987) 
Albums with Prince: Lovesexy (1988), Graffiti Bridge (1991), Diamonds & Pearls (1992), Symbol (1993), Carmen Electra (1993), and GoldNigga (The NPG) 
Levi had been a member of Sheila E's band at the time he was tapped by Prince to join his band and go out on the 1987 Sign O' the Times tour as the bassist – and background vocalist – with Sheila E as the drummer. Levi later collaborated with Prince on several songs for the film, Graffiti Bridge. He was a founding member of the NPG and, with the addition of Sonny Thompson, Levi switched to guitar duties. 
He started playing guitar at the ripe age of 6, under direction of his Grandmother, who was a pastor at a Church and wanted an Electric Gospel sound as the musical canvas. As a young guitarist, Levi caught the ear of the late great, "Don Cornelius," pioneer of the hit dance show, "Soul Train." Levi credits Don with helping to maneuver through the music industry and, as a result, landing a spoot in Sheila E's band. Regarding his work on Alphabet Street for Prince's Lovesexy album, Rolling Stone wrote that the "jagged funk guitars and Levi Seacer Jr.'s bouncing bass line combine with Prince's street-corner cool for a track that sounded absolutely bracing in the increasingly cacophonous context of late-Eighties pop radio." (Rolling Stone, Top 25 Prince songs) 
In addition to playing with Prince, Levi also collaborated with him on a number of songs. They wrote and co-produced a number of tracks together both for Prince's albums as well as for those he produced for others, such as Mavis Staples, George Clinton, Martika, Tevin Campbell and Elisa Fiorella. Levi has also worked with a number of international recording artists outside the Prince family, such as The Time, The Jets, The Pointer Sisters, The Fine Young Cannibals, Jennifer Holiday, Salt and Pepa, Johnny Lang, Raphael Saadiq, Tony Toni Tone', El Debarge, 
Jody Watley, and the 3x Grammy winning ensemble Sounds of Blackness. Levi has also been voted as one of the Thousand Greatest Guitarists in the World.