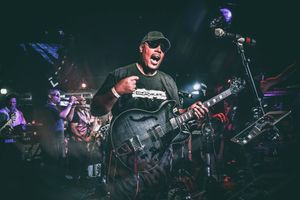 Tony Mosley (Vocals and Guitar)
Tours with Prince: Act I (1993), Diamonds & Pearls (1992), Nude Tour (1990) 
Albums with Prince: Diamonds & Pearls (1992), Symbol (1993), Carmen Electra (1993), and Gold Nigga (The NPG) 
During his formative years, Tony played guitar in his local high school stage band at North High in Minneapolis while honing his dancing skills at local clubs and parties. Tony burst on the scene performing in local dance contests at First Avenue. Initially, he was cast as an extra in Purple Rain but during a break in filming, Prince caught him break dancing with friends Damon Dickson and Kirk Johnson and he was asked to help choreograph dance routines for various numbers that both Prince and the Time would be performing in the film. Following the production of Purple Rain, Prince hired him for various music videos throughout the years. 
It wasn't until 1989 that Prince asked Tony to join his band as a dancer/choreographer for his upcoming European Nude Tour. During this tour, Prince discovered that Tony had other talents (song writer, rapper, and guitar). Prince began to let Tony take stage with him to perform lyrics that he had written or take center stage while he had various wardrobe changes. This led to Tony co-writing various songs with Prince on the multi-platinum Diamonds and Pearls and Symbol albums.  As well as co-writing along with Prince on Carmen Electra's album and GoldNigga. 
In 1994, under the new stage name, "Deacon", Tony recorded the songs "Hoops Dreams" and Fast Break" for the Academy Award nominated documentary Hoop Dreams soundtrack.